No-mosquito scented candle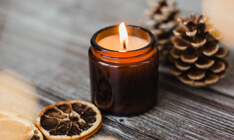 DIFFICULTY
INGREDIENTS:
- 30 g cocoa butter
- 25 g organic Shea Butter
- 25 g organic coconut oil
- 20 g of Soy wax
- 10 drops of "Natural Defense" Mix of essential oils
Here's a super easy recipe to create a scented candle that will keep mosquitos away from your summer evenings! The secret ingredient of the recipe is the essential oil mix "Natural Defence"!
Preparation
Melt the two butters and wax in a small pot, add the coconut oil and the "Natural Defence" essential oils mix. Pour the mixture into a glass container and insert the wick. Once the candle has cooled down, cut off the excess wick and ... your candle will be ready to keep mosquitoes away!
How to use
Turn the candle on when in need and let the essential oils spread a a soft scent able to keep mosquitoes away!
Facebook
Twitter
Whatsapp
Mail