For the environment and for the community
Making effective and good products for those who use them, that also benefit the world that we live, made of nature and of people and communities that live it: this is our mission, the compass that guides us by suggesting the way to take. For us it is not just about beautiful words but a commitment to be concretized day after day, not only through our products but also taking part in virtuous initiatives and ethical projects.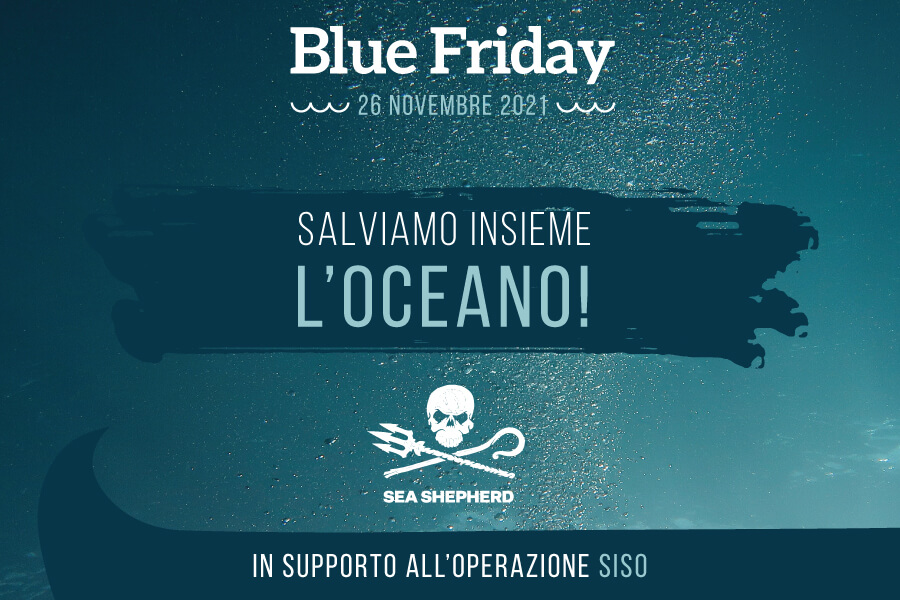 Blue Friday: let's save the ocean together!
Our Black Friday dyes of Blue!
On the occasion of the Black Friday 2021 we decided to board virtually on the vessel of Sea Shepherd, an international non -profit organization that deals daily with the health of the oceans.
The reason? Free our beautiful sea from plastic!
Each purchase made during the Blue Friday day concretely helped to finance the SISO operation, a mission that aims to defend the delicate ecosystem of the Aeolian Islands archipelago by eliminating the drifnets and FADs, illegal for many years but still very used in the illegal fishing.
Together we recovered over 20 km of plastic wires and other polluting material!
A Christmas full of solidarity!
La Saponaria participates in the Basket of the Marche region Excellence (Paniere delle Eccellenze Marchigiane), the Christmas fundraising project organized by the Ant Foundation, the largest non-profit reality in Italy for at home and free socio-health assistance for cancer patients.
For several years we have donated some of our products to the Ant Foundation that uses them to compose the "baskets of excellence", Christmas baskets rich of food and wine excellence and socially responsible products from our territory, which can be purchased in many squares during the Christmas period.
This allows our products to transform into free medical-specialist assistance days at home of the sick people of cancer of the Marche region.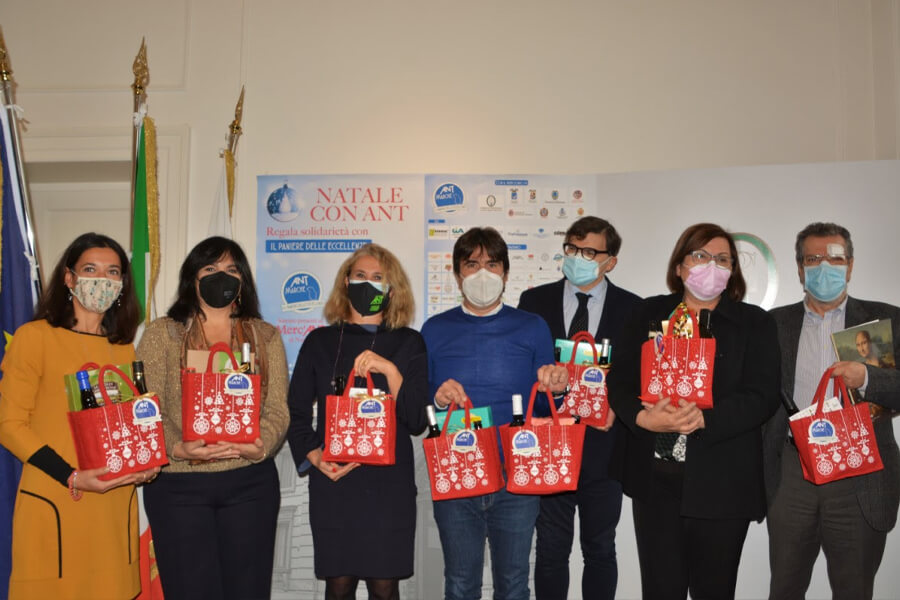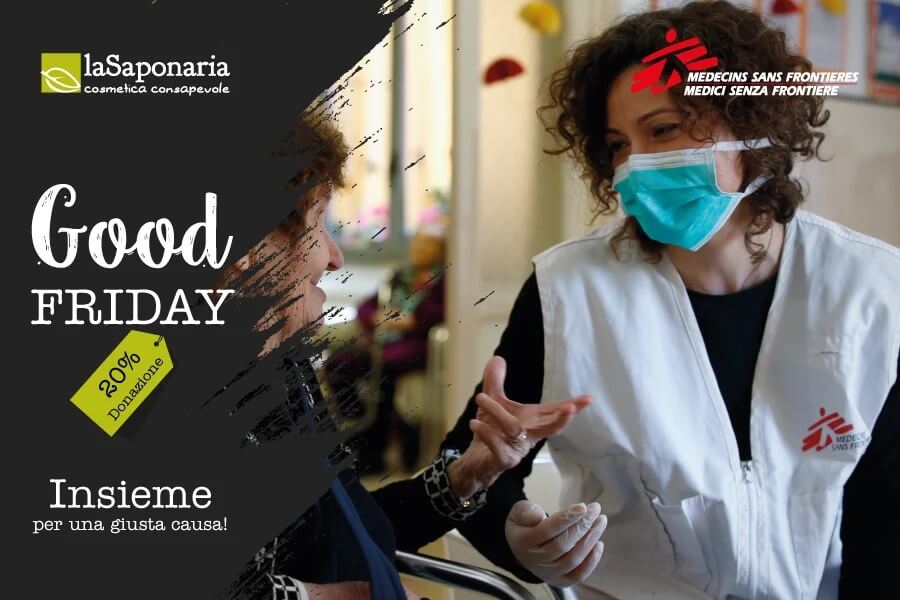 Good Friday: together for a just cause!
Let's take care of those who take care of us!
2020 was an anomalous year, marked deep from the Covid-19 pandemic.
In front of a similar event, which has left us helpless for a long time, we decided to transform one of the most consumerist days of the year, Black Friday, in an opportunity to do something good!
That's why we decided to donate 20% of our day collection to Doctors Without Borders, whose mission is to offer medical assistance where there is more need.
In 2020 Doctors Without Borders opened a Covid fund, to be even more helpful in the hospital structures of all those countries that have found themselves having to face the epidemic.
We work constantly on the packaging of our cosmetics and look for sustainable alternatives to virgin plastic, a real plague for our planet!
Our green commitment has led us to expand our line of solid cosmetics more and more and to prefer more virtuous materials such as recycled aluminum, glass, cardboard and bioplastic.
La Saponaria has made a donation to L'Africa chiama, a humanitarian organization that has been operating for years to turn on the spotlight on the most forgotten and oppressed continent.
In particular, the donation was made on the occasion of the XXIV° regional African week, a conference full of events, testimonies, shows and music.
Other donations supported
La Saponaria considered it important to support through donations the Stay Human Association, active in helping people in need of help, and the non-profit organization Oltre lo specchio, which deals with improving the lives of the women who have to face an oncological disease.
Special projects with a story to tell
We like to support projects with great social and environmental value and we want to tell you stories of redemption, of second possibilities and very skilled artisans who carry on their art in small villages of distant countries!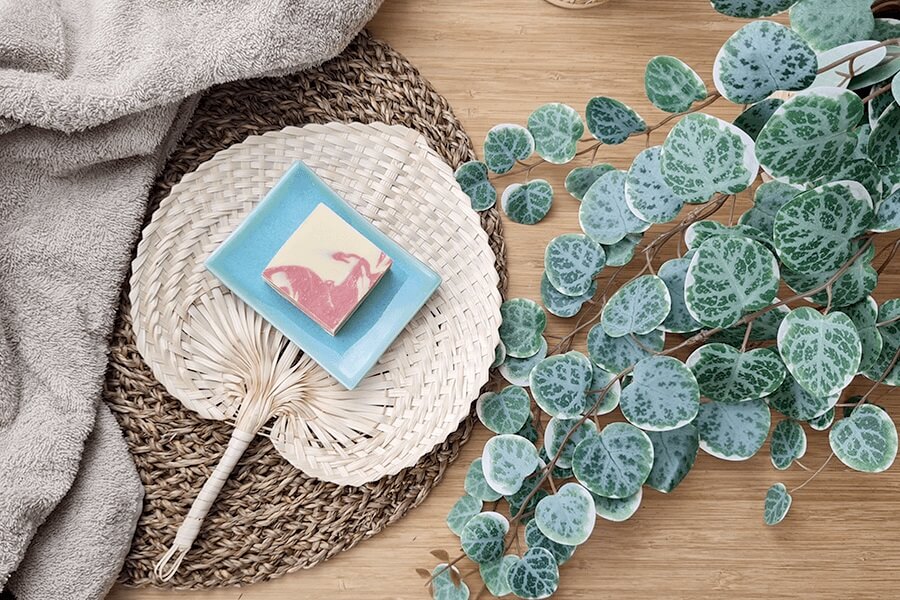 Lotus
soap dish

Lotus is a ceramic soap dish that comes from far away!

To model it are the skilled hands of the artisans of the village of Bat Trag , in Vietnam, famous for the great availability of excellent quality white clay.

Projects like this are carried out thanks to Craftlink , a non-profit association that deals with support local artisans , especially the most disadvantaged ones, and promote forms of sustainable and lasting development in order to improve their living conditions,

Lotus is a unique product, handmade with heart and passion!
Bamboo
make-up wipe

A soft bamboo towel with a solidarity soul , designed to replace the classic disposable little discs and eliminate waste and any trace of make up!

Each towel is handmade in the tailored laboratory of the social cooperative Oikos and represents a working opportunity for women held in the female prison of Vigevano .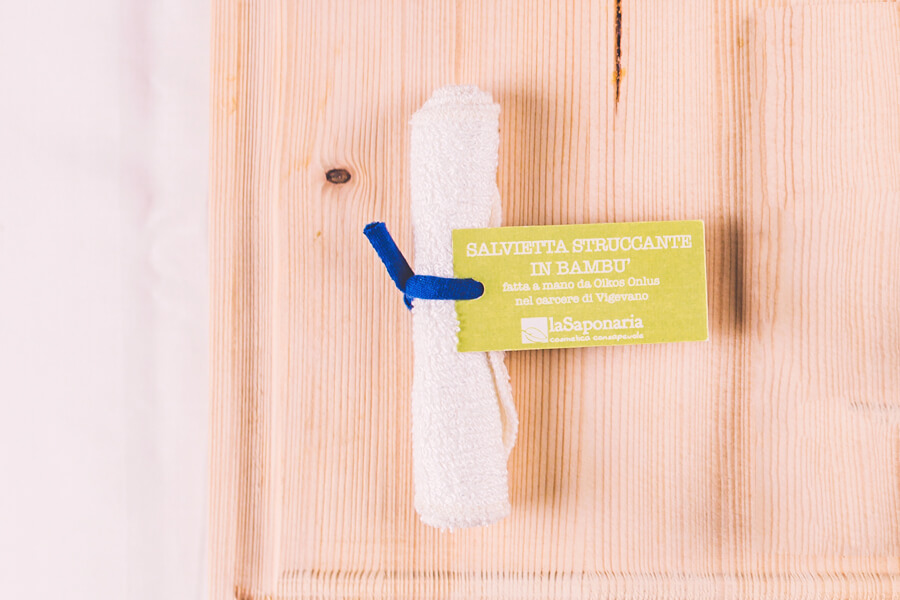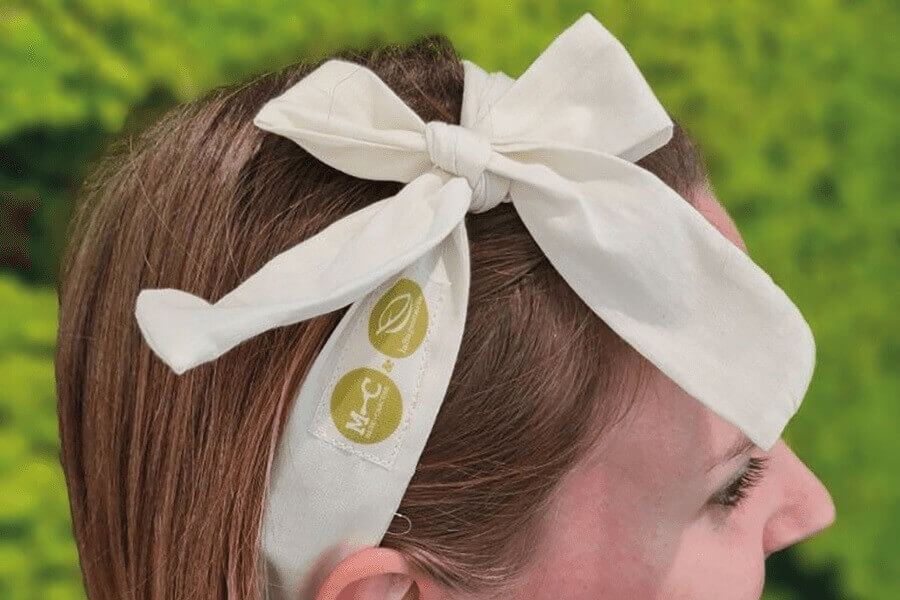 Made in prison
hair bands

This is a story that speaks of second possibilities and projects with great social and environmental value!

We are talking about the recycled Cotton hair bands made by the Lecce cooperative Officina Creativa , through the Made in prison project , which offers women in a state of detention the opportunity to acquire technical and professional skills to build awareness e dignity.

The bands are handmade through the recovery of waste textile material which would otherwise be intended for incinerators.
Take it easy

- Body Scrub

Limited edition in support of Percorso Donna

This scrub with an intense coffee aroma awakens circulation and senses thanks to its energetic exfoliating power... and that's not all!

Purchasing this product is not only good for your skin!
Take it Easy supports Percorso Donna Association, to combat and prevent gender-based violence!