Mouthwash
The natural and certified organic mouthwashes of La Saponaria leave a deep feeling of cleanliness and freshness. Their bottle is made of glass, a green and sustainable material. The whitening treatment has an anti-stain action and is contained in a recycled aluminum jar: for shining smiles without weighing on the Planet.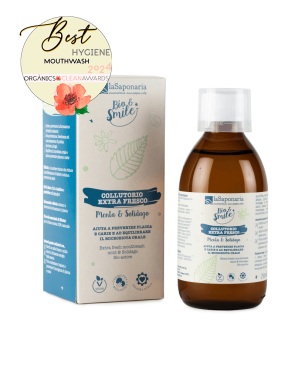 Strong action mouthwash based on Mint and Solidago. Helps prevent plaque and...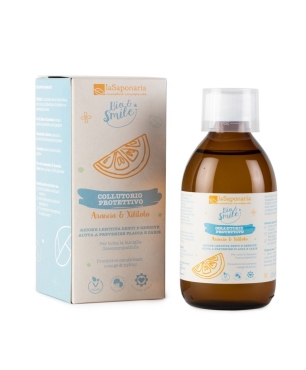 Protective mouthwash for the whole family based on Sweet Orange & Xylitol...
Find out more about our
organic cosmetics
Natural and (almost) zero waste mouthwashes
"We don't need a handful of people practicing the zero waste philosophy perfectly! We need thousands of people who practice it imperfectly!" This is the motto of the international zero waste philosophy network, which aims to reduce waste production and avoid plastic packaging. The natural mouthwashes of the Bio&Smile Line have an external packaging in FSC certified paper and the jar is in glass. The cap and the cup for rinsing are made of plastic. That's why they are almost zero waste.
They come in two flavours, Orange & Xylitol Protective Mouthwash, a delicate natural mouthwash to give protection, freshness and lots of smiles to your whole family and Mint & Solidago Extra Fresh Mouthwash, a natural mouthwash to give intense freshness and a wonderful feeling of cleanliness! And for very white teeth there is our WonderWhite Whitening Treatment, a whitening powder-gel to be used 3 times a week instead of toothpaste.
Our customers are looking for ...
Free shipping for orders over € 49
Possibility of collection in our stores
Organic, safe and certified products
Immediate assistance and beauty advice