No-mosquito home fragrance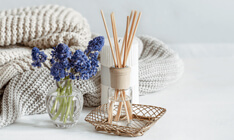 DIFFICULTY
INGREDIENTS:
- 200 ml of water
- 2 spoons of baking soda
- 10 drops of "Natural Defence" essential oils mix
Don't let annoying buzzes and unpleasant pinches ruin your summer evenings! You can try and fix this by making a very simple and natural home perfumer! All you need is the "Natural Defence" new essential oils mix and a few more ingredients, and you're done!
Preparation
Put all ingredients in a jar and mix them. Add 5-6 wooden sticks.
Alternatively, you can pour 10 drops of the essential oils mix into your own radiator humidifier. Even when the radiator is switched off, the water will release the essence as it evaporates.
How to use
Place your home-made diffusing fragrance and let the scent spread in your home and keep mosquitos away!
Facebook
Twitter
Whatsapp
Mail